¿What is its role?
The role of the petrochemical industry is to transform natural gas and petroleum derivatives into raw materials which represent the basis of various production chains.
The main petrochemical chains are
Methane. (Natural Gas)
Ethane (light olefins)
Naphtha (aromatic)
The petrochemical industry is a key platform for growth and development of major industrial chains such as textiles and clothing, the automotive and transportation industry, electronics, construction, plastics, food, fertilizers, pharmaceuticals and chemistry, among others.
Given the value of this industry as the first link in important production chains, it is essential that it is strengthened and so able to provide the supplies required by national industry in a timely manner.
KEY METHANE DERIVATIVES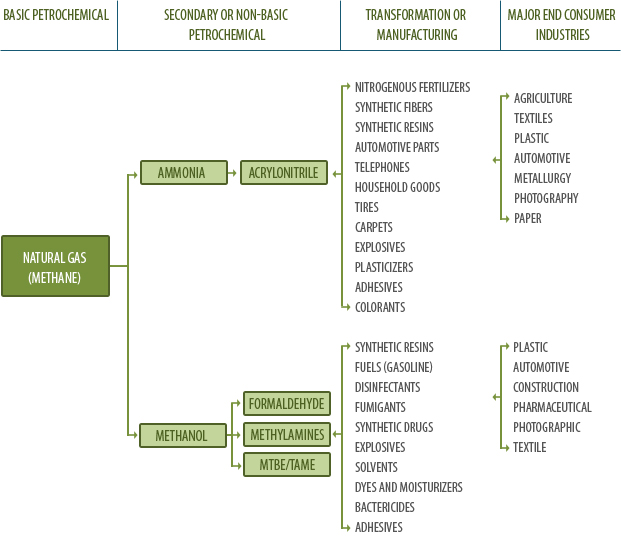 KEY ETHANE DERIVATIVES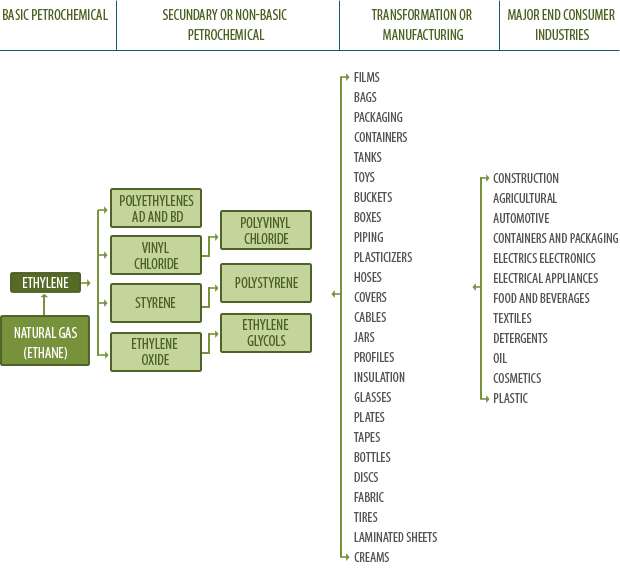 KEY NAPTHA (AROMATIC) DERIVATIVES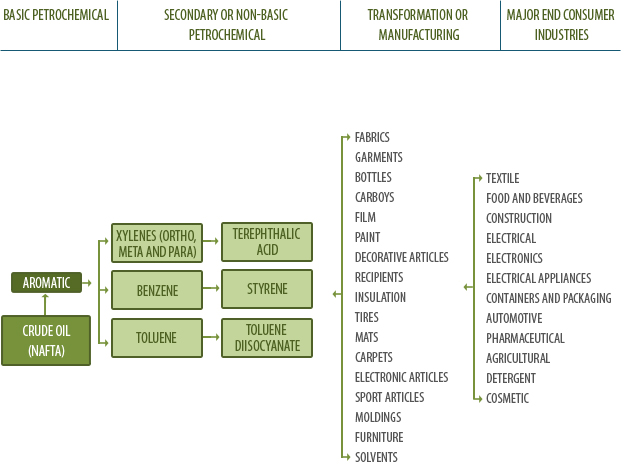 What are their main uses?
Petroleum is an essential ingredient in the industry for thousands of products that make our lives easier and often help us to make our lives longer and better. Therefore, petrochemicals are a vital part of our daily lives.
Audio cassettes
Mixers
Food storage bags
Garbage bags
Photographic cameras
Capsules
Strollers
Seatbelts
Computers
Food preservatives
Artificial hearts
Shavingcream
Deodorant
CDs
DVDs
Packaging
Luggage
Medical equipment
Surgicalequipment
Fertilizers
Balloons
Insecticides
Syringes
Toys
Softcontactlenses
Sunglasses
Lipstick

Pacemakers
Furniture
Dypers
Umbrellas
Toothpaste
In-line skates
Glue
Golfballs
Perfume
Paint
Digital watches
CD players
Photographic roll
Clothes
Hairdryers
Shampoo
Surf boards
Creditcards
Roofing
Telephones
Tents
Ink
Hairdye
Crockery
Candles
Bandages
Safety glass
High heels